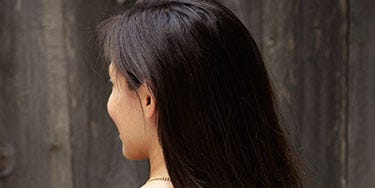 For original article click here
Serpent T-Shirt
This serpent appliqué adds bite to any basic T-shirt—and it's fashionable enough to wear year-round.
Step 1: Cut out a 12″W × 17″L piece of black broadcloth. Adhere a same-size piece of paper-backed fusible webbing, such as Pellon 805 Wonder-Under ($2.49 per yard; hancockfabrics.com), to the back of the fabric, following package instructions.
Step 2: Download and print our snake template, then cut out all three pieces. Using chalk, trace them onto the broadcloth; cut out.
Step 3: Remove the paper backing from piece A, and position it, adhesive side down, onto the front of your shirt, as shown, leaving a half inch draped over the right shoulder seam. Repeat with piece B, layering it over and under piece A, as shown, and leaving a half inch draped over the left shoulder seam. Cover pieces A and B with a damp towel and iron in place, according to package instructions for the adhesive webbing.
Step 4: Turn the shirt facedown and place piece C as shown, so its ends cover the ends of pieces A and B. Cover with a damp towel and iron in place.
Step 5: Outline the snake silhouette with a running stitch; we used a double strand of gray embroidery floss.