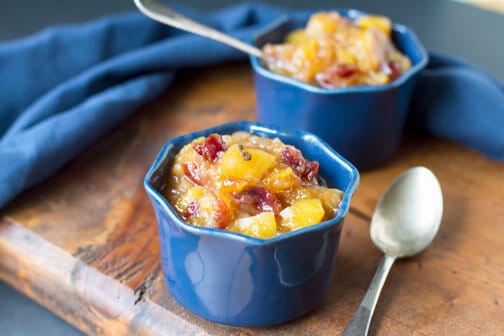 For original article click here
This simple mango chutney recipe is deliciously sweet and provides a great balance to rich, spicy foods like curry and samosa. It comes together easily with just a few ingredients and it sure tastes better than the store-bought condiment.
They say you have to try new food three times before your tastebuds can decide whether they really like the food or not. I think some foods take longer unless you give up trying too soon. I usually don't give up easily (except with liver, gag) so it took numerous tries before I acquired the taste for Indian food. Now I put their spices on almost everything, ha!
However, it took only one try to fall in love with this chutney. It was a perfect condiment for the spicy samosa pie I served to my guests once. I love making my company my taste testers and I was confident this pie from Foodess would turn out great. I adopted her chutney recipe to go with my fillo samosa firecrackers.
The hardest thing about making this Indian mango chutney is the wait. Even cutting mangoes is easy. And if you don't like Indian or spicy food and think you won't need mango chutney, think again. Try this:
1 onions chopped
2 mangoes chopped into chunks
1 tablespoon grated fresh ginger
6 tablespoons white vinegar
1/2 cup brown sugar
1/4 teaspoons ground cloves
1/4 cup raisins
1/2 cup water
Combine all ingredients in a saucepan. Bring to a boil, then reduce heat as mixture softens and begins to bubble. Stir often, breaking up the mango chunks with a wooden spoon, until the mixture is thick, leaving just a few intact mango chunks, about 30 to 40 minutes depending on the size of mango chunks.

Store in a sealed container and either refrigerate for use within 2 weeks, freeze or ladle into jars and process in a boiling water bath and store for up to six months.
*How to cut the mangoes
Stand the mango on your cutting board stem end down and hold. Place your knife about 1/4″ from the widest center line and cut down through the mango. Flip the mango around and repeat this cut on the other side. What's left is the seed.

Cut parallel slices into the mango flesh, being careful not to cut through the skin. Turn the mango and cut another set of parallel slices to make a checkerboard pattern.

Scoop the mango slices out of the mango skin using a large spoon or turn the scored mango "cheek" inside out by pushing the skin up from underneath, and scrape the mango chunks off of the skin with a knife or spoon.
~ Free Tip ~Substitute fresh ginger with 1/4 teaspoon ground ginger. Add 1 small minced garlic clove if desired.
Calories: 395kcal | Carbohydrates: 98g | Protein: 2g | Sodium: 29mg | Potassium: 580mg | Fiber: 4g | Sugar: 78g | Vitamin A: 1785IU | Vitamin C: 65.1mg | Calcium: 82mg | Iron: 1.2mg
Tried this recipe? Rate it below!Mention @all_thats_jas and tag it #allthatsjas