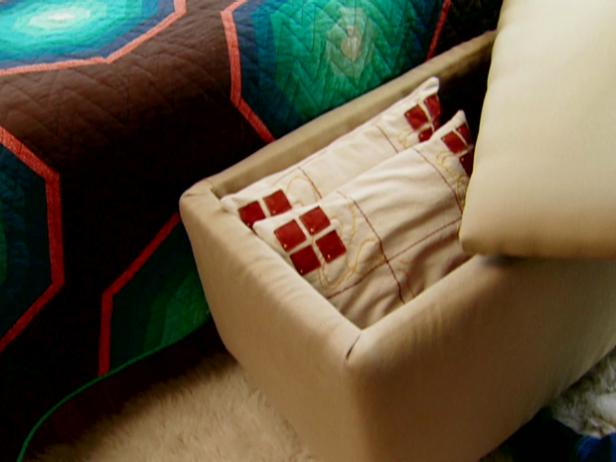 For original article click here
Watch an Overview Video
Gather Your Materials and Tools
Materials and Tools:
1/2-inch plywood
2-inch wood strips
wood screws
power drill with wood bits
sander
staple gun
hot glue
wood glue
paint
2-inch brush
4-inch foam
quilt batting
upholstery fabric
ribbon
(4) feet
Choose a Size
A padded ottoman can double as a pet stepping stool and extra storage.
Start by choosing the size of your ottoman. Standard height is 20 inches, including height of feed.
The padded ottoman can be square or rectangular.
Cut, Sand and Attach the Panels
From 1/2-inch plywood, cut front, back, and side panels.
Sand all edges.
When measuring bottom, allow 1 inch in length and width to accommodate thickness of panels.
Using wood glue and screws, attach front and back panels to bottom. Tip: Pre-drill holes, using counter bore to countersink screw heads so they won't tear upholstery.
Wipe away excess glue.
Screw on side panels.
Attach the Lid and Feet
Measure outside dimensions of box and cut lid from 1/2-inch plywood.
Cut 2-inch wood strips to fit around edges, glue them on, and secure with finishing nails
Screw feet on bottom from inside box.
Paint interior of box and underside of lid.
Offset feet toward center to allow for overlap of padding and upholstery.
Add the Padding and Fabric
Cut foam to fit top of lid and box exterior, overhanging edges by 1/4 inch.
Glue foam to lid and box.
Cover foam with batting, overlapping sides and stapling in place on underside.
Cut fabric to cover box, overlapping sides by 2 inches.
Cut fabric to cover lid, overlapping sides by 4 inches.
To stabilize ottoman, put self-adhesive, non-slip decals on bottoms of feet.
For extra comfort, double foam on lid.
Staple top edge of fabric to inside of box and bottom edge to bottom of box.
Use hot glue to glue ribbon over fabric edges and staples.