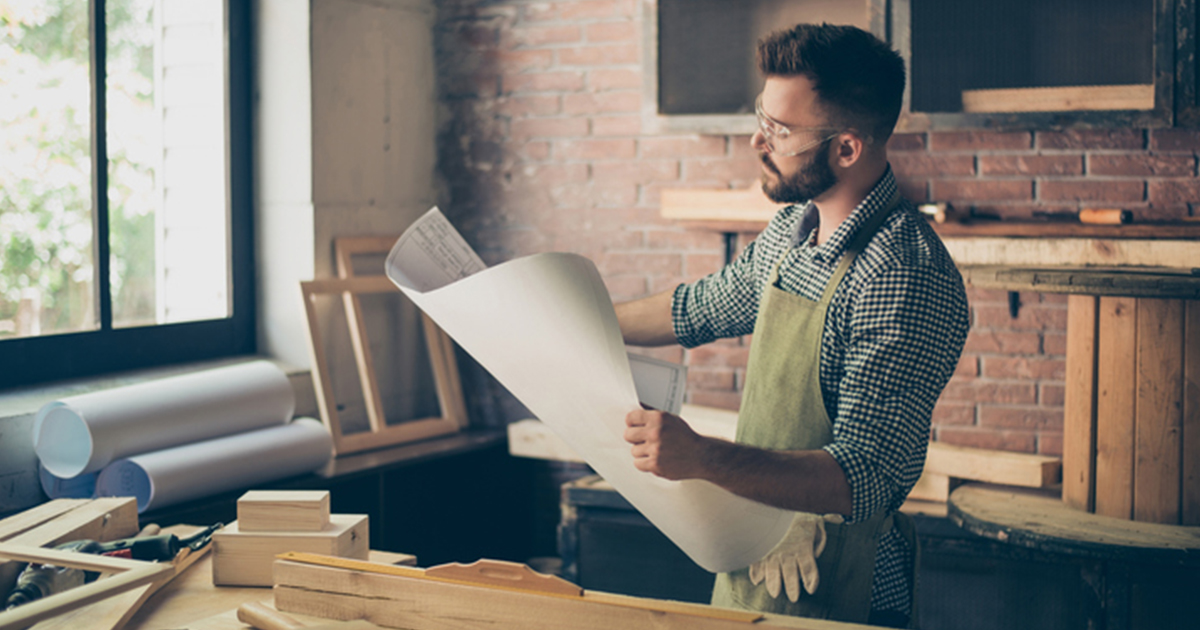 For original article click here
DIY Furniture – There is a certain satisfaction in building your own furniture pieces, and there is no shortage of ideas for those looking to DIY. The challenge of making a unique piece of furniture is well worth the effort. If you are just wading into the DIY pool, it is smart to start with smaller, affordable projects. Here are the top nine fun, cost-effective and trending DIY furniture project ideas.
NOTE: Whenever completing DIY projects, remember to follow the instructions. Ignoring the smallest instruction could make the difference between success and failure.

DIY Furniture Project #9 – Nightstands
Nightstands are a necessity to hold your favorite book and beverage. There is no end to the variety of styles. You can transform a simple piece of wood to a table.
Stack wooden crates vertically to make a one-of-a-kind display. Secure each crate to the wall or create a rustic farmhouse look by upcycling an old door into a wooden box and attaching a lamp. You've probably heard of floating shelves but consider adding a small floating nightstand on either end of the bed. Learn more.

DIY Furniture Project #8 – Pallet Projects
Recycling pallets are big business these days.
Pallets are a popular option for DIY projects. They are readily available and easy to modify for different furniture.
You can find a pallet at a big box store or gardening center. Easy projects include headboards and simple tables. Consider trying your hand at creating planters or if you're really feeling creative, a backyard juice bar.
Pallet creations typically require some familiarity with hammers and drills. Learn more.

DIY Furniture Project #7 – Floating Shelves
There might not be anything more versatile than floating shelves. They can be any length and hung just about anywhere.
Floating shelves are an easy DIY project because they require so little materials. You need a steady eye (or level) to ensure you hang the shelves straight.
A stud finder can help you determine where to hang floating shelves. Depending on the type of wood and what you plan to place on the shelves, strong drywall screws are also required. Learn more.

DIY Furniture Project #6 – Cool Kid Headboard
Headboards are a great DIY project because they vary in difficulty and cost.
For a really easy DIY headboard that your kids can help with, consider using pool noodles. Simply have your kids pick out their favorite color combination. Cut them down the middle and glue them onto foam core sheet.
Another easy headboard is to drape a throw over a rod and upholster a foam board with your child's favorite superhero or mosaic a few tiles behind the bed. Learn more.

DIY Furniture Project #5 – Dressing Up Drawers
You can save hundreds of dollars by upgrading your wooden furniture or kitchen cabinets with new hardware. It's an easy and cost-effective way to add new life to old furniture.
To build drawers and dressers, you'll need to know basic woodworking, a table saw, and some basic tools. Building dressers is not a DIY project for novices, but if you are handy with tools there is no shortage of DIY ideas. You can try using crates, pallets, deck tiles, or even metal and use a scroll saw to help create your own modern or vintage design. Learn more.

DIY Furniture Project #4 – Gardening Galore
What could be better than a combo of DIY and gardening?
These days you do not have to have a yard to garden. Custom make your own indoor garden oasis. Accentuate your garden furniture with treasures from garage sales, flea markets or craft shows such as homemade birdhouses or fairy dwellings. Learn more.
For those adept at working with tools, you can create a custom-made workbench to hold all your trowels and treasures. Build gardens using pallets, different sized containers, or raised beds.

DIY Furniture Project #3 – Patio Furniture
Depending on what type of patio furniture you want, consider creating a DIY patio ensemble. To go for a complete rustic look, sand and stain tree trunks for outdoor tables. Or, attach legs to the underside of stained natural pieces of wood. This DIY project can be a beautiful and easy one for novices. Learn more.
To create a garden bench (or table) use stained 2x4s and wood glue. This furniture is easy to create and is a look full of clean lines. Learn more.
DIY outdoor sofa projects also range from easy to hard. For those that love to work with textiles, they can complete the look with DIY cushions and throw pillows. Learn more.

DIY Furniture Project #2 – Rustic Inspired Bathroom
The bathroom is an excellent place to put your DIY skills to work. By custom-making your shelves and drapery, you can get make the smallest bathroom feel like a spa.
Wood shelves can be put anywhere and made any size – use them for storage or to showcase some of your favorite things. Stain or paint the wood to add a pop of color or go for a neutral tone. Add stones and candles and even bamboo with a touch of lavender for effect.  Learn more.

DIY Furniture Project #1 – Accessorizing Walls DIY Style
This is a great way to add a pop of color, hang some things that you've collected through the years or hang your favorite photos. Wall hangings can also be used as an excellent focal point or as a conversation starter. These projects can be very easy to complete.  Learn more.
With a little bit of creative inspiration, try some DIY wall accessorizing. Hanging a favorite textile, perhaps one that you purchased on your last vacation, may bring back sentimental memories every time you walk through the room. When it comes to accent pieces, consider wrapping and stapling matching fabrics around styrofoam or wood to bring a room together.
Related – How To Refinish Furniture – Step By Step Furniture Guide
Summary