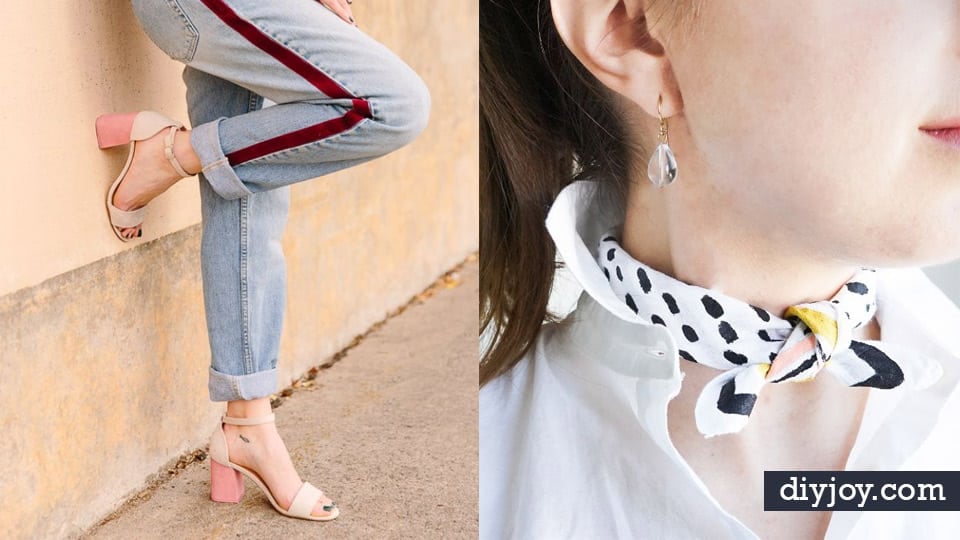 For original article click here
Looking to update your wardrobe but don't think you have the budget for all the awesome things you want? Until recently, I thought my lack of sewing skills was stopping me from making homemade clothes, but then I came across lots of cool no sew fashion ideas. If you hate going through Pinterest looking for ideas only to find there is no tutorial showing you how to actually make the project, you're in luck. We found the 41 best no sew fashion ideas that have step by step instructions and photos that can assure you that what you see is what you will get. From jeans makeovers to t-shirt updates to some easy glue and fold ideas, you are sure to find some fun and easy new things to add to your wardrobe here.
1. No-Sew DIY Side-Stripe Pants
Add glam to your casual style by adding a side-strap to your jeans. This is super quick DIY fashion idea, since you don't even need a sewing machine to achieve this look. All you need is some velvet ribbon and heat bond iron-on adhesive tape and you're ready to go! Head on to Paper & Stitch to check out the full tutorial.
2. DIY Kimono From A Shirt
I am a small gal and I must say I do have a surplus of oversized t-shirts, so when I found this DIY from Celia Agnes, I got really inspired. I literally cannot believe how quick and simple it was! With just simple cutting here and there, plus fabric trim, you're all set to create a DIY kimono from old shirts.
3. DIY No-Sew Wire Headband
Messy hair, don't care? Well, you can definitely add glam to it by accessorizing with a wire headband. This fun DIY hair accessory makes good use of random fabric scraps and gauge wires, perfect for a quick DIY project to share with your BFFs.
4. DIY Patterned Neckerchief
I just love the sophisticated vibe that this patterned neckerchief gives! It makes even your most basic outfit chic and elegant at the same time. What's not to love, really? I am totally trying this easy project over the weekend.
5. DIY No-Sew Blanket Cape
Crazy for capes? This No-Sew Blanket Cape is a perfect piece of clothing if you just want to wrap yourself in your blankets but be fashionable at the same time. A Pair & A Spare has the perfect tutorial for you to do just that.
6. No-Sew DIY Slip Dress
Coachella fashion never goes out of style. Would you believe this slip dress is actually from an old maxi dress and was given a new life just by trimming and cutting and tying some knots. What a refreshing take on the Boho trend and looks perfect for summer too!
7. DIY No-Sew Open Back Top
If you haven't done the Konmari method yet, do a once-over before you even consider throwing/giving them away. Because you can turn them to something new! Love Maegan shows you how to upcycle a dress to this no-sew open back top.
8. DIY No-Sew Pocket T-Shirt
This by far is the simplest and quickest DIY for No-Sew Fashion Ideas! In under 10 minutes, you can create a simple pocket and glue it to an old plain shirt. It sure adds some character to a plain tee.
9. No Sew Wrap Around Tulip Skirt
I like to have fun with my skirts so when I found this tutorial from Me Sew Crazy, I was over the moon! I am sewing-ignorant, so this No-Sew Warp Around Tulip skirt is just perfect for me. I am definitely making one sometime soon.
10. Crop Top DIY
Looking for an adorable crop top this summer? This tutorial is so easy, I promise you will be done in no time!
11. No-Sew Layered Top DIY
12. No-Sew Girls Fabric Hair Bows
13. No-Sew Giant DIY Bow
14. DIY No-Sew Beanie From A Sweater
15. No-Sew DIY Bow-Back Tank Top
16. Lace Trim Cami
17. No-Sew Flannel Cape
18. Fringed Tie Dye Shirt
19. Summer Scarf
20. DIY Polka Dot Shorts

21. 5 Minute No-Sew DIY T-Shirt Skirt
22. No-Sew Criss Cross Back T-Shirt DIY
23. DIY No Sew Fur Vest
24. Leather Hair Tie
25. No-Sew Kimono Cover-Ups
26. DIY No-Sew Tote Bag
27. DIY No-Sew Open Back Sweater

28. No-Sew Beach Wrap Dress
29. Peter Pan Collar DIY
30. DIY No-Sew Infinity Scarf
31. Braided Headbands
32. No-Sew Flannel Blanket Scarf
33. Rose Petal Headband
34. DIY Long Sleeve Wrap Top
35. 10-Minute Cowl Neck Top – No Sew DIY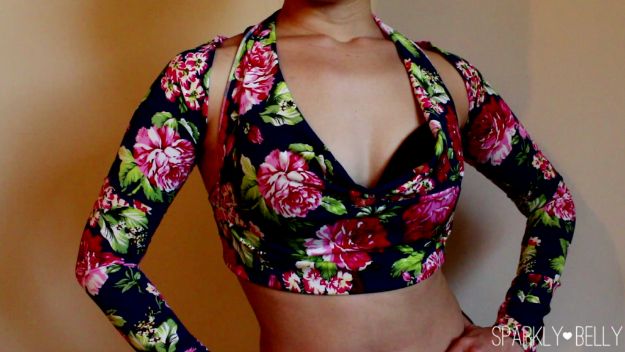 36. No-Sew DIY Placemat Clutch
37. DIY Braided Back No-Sew Tee
38. DIY No-Sew Scalloped Shorts
39. DIY No-Sew Hand-Stamped 4th of July Tank Top
40. DIY No-Sew Stamped Scarf
41. DIY Halter Wrap Swim Coverup