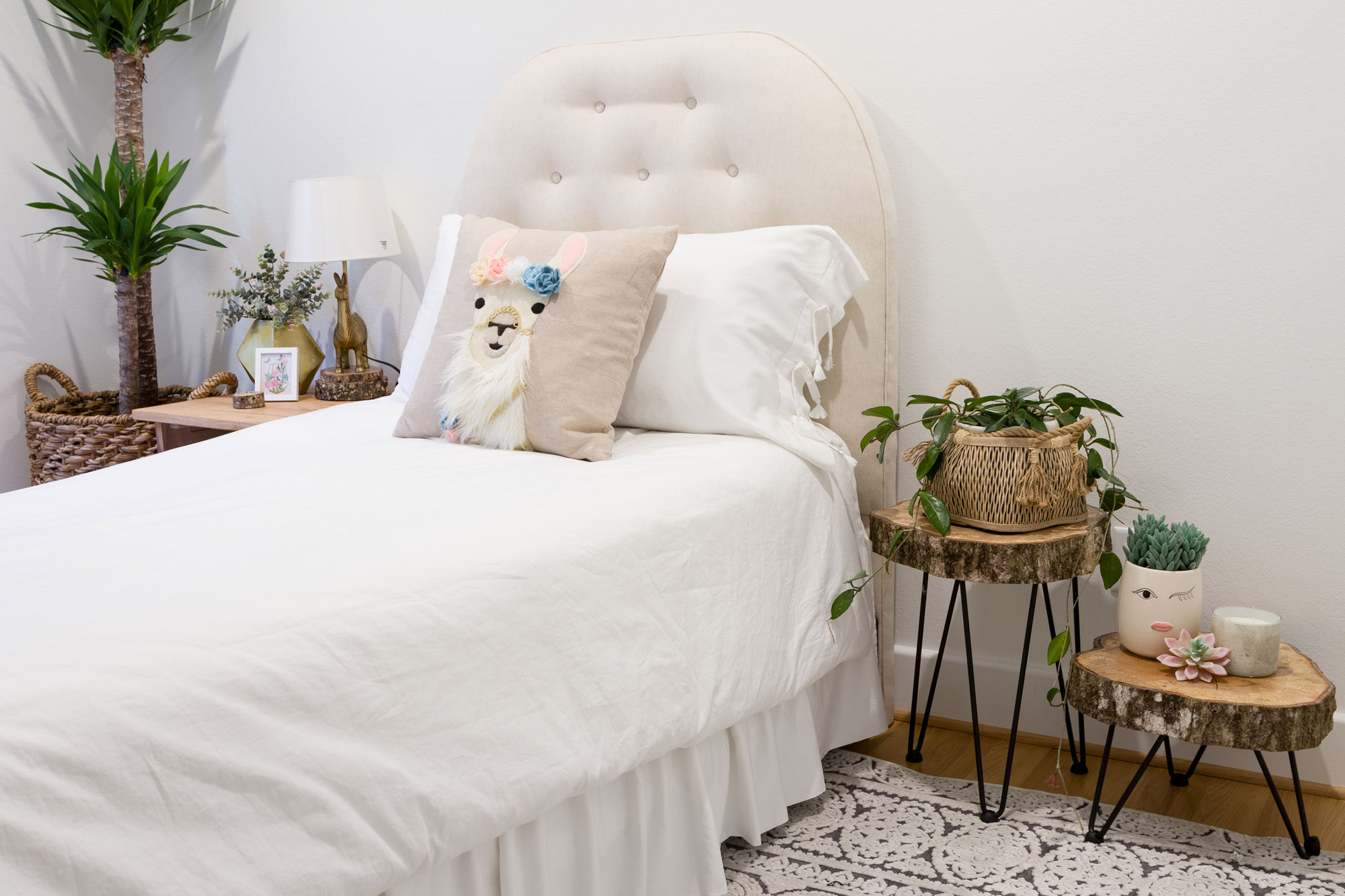 For original article click here
I'm so excited to share my DIY headboard project. I have been working on updating my daughter's bedroom and she has been dreaming of a Bohemian linen tufted headboard. Before we begin I wanted to share her bedroom makeover mood board. She wanted it to be romantic, whimsical and fun.
Dreamy Romantic Bedroom Makeover
I have made many custom headboards over the years as well as taught classes on DIY upholstering them with fabric, welt cording aka piping, nailheads, and button tufting. Please join me as I transform this bedroom and receive all the updates straight to your inbox HERE! 
This post is part of a five-week $500 Room Makeover Challenge with six other amazing DIY'ers, therefore, you will find more participants and their challenge at the end of this post.
This post contains affiliate links. This means that if you purchase from one of these links I will make a small commission, but rest assured you will not pay more for any products.
It is easy and quick to learn how to make a headboard, so let's get started.
After she sketched out her ideas for a Boho headboard I made a craft paper template.
Tip: I have kept a few headboard shape templates from past projects so I can use them as headboard ideas to make new ones.
DIY Headboard craft paper template
To find the best placement of the headboard I placed her sleeping pillow and bed rest pillow against the paper template to be sure they would not totally cover the headboard. I can easily move the paper template up and down to find the perfect spot. Then I measure the from the floor to the top of the box spring to determine the length for the headboard legs. The legs measured 17″ and the headboard without the legs measured 35″ high by 38″ wide.
Craft paper template with pillows
Building a Headboard
After deciding on your headboard design you will need to gather your supplies. Printout the instructions and you are set.
Supplies:
1/2 in. Plywood
2 each of 2 in. by 6 in. by 8 ft. pine boards
2 yards of Linen Fabric
Tools:
Headboard Construction
Headboard frame, foam, Dacron, Fabric, and Cord
Trimming Dacron
Headboard ready for fabric
Headboard legs before covering them with Dacron and fabric
Place Dacron on legs
Add linen fabric to legs
Pulling the linen over the headboard and staple in place
Make neat folds on the corners
Staple cord to headboard front edge
Finishing the tag on the edges
Fold back the tag and staple tack strip
Adding Dacron strip to the outside of the headboard
Flip the fabric tag to the back of the upholstered headboard
Finishing the tag on the edges
Cording
When I was almost finished creating this headboard my daughter decided she wanted me to add buttons, hence, I went back to the drawing board to add the holes and cover the buttons to use in tufting the headboard.
Button Tufted DIY Headboard
The cute live edge tables to the right of the headboard were made from a fallen tree to see how we made them check out this post.
Bohemian DIY Headboard
Since this DIY fabric headboard was for a twin-sized bed it is essentially a kid's headboard. Thus, you can use it as a reference for designing your kid's headboard too. You can see my son's bedboard HERE for more headboard ideas.
More Room Challenge Inspiration
Room Challenge
My friend, Becca from Hello Central Avenue is turning her son's bedroom into a Star Wars theme room.
Star Wars Bedroom Makeover Mood Board
Teri from T. Moore Home is making over her daughter's bedroom too, and she is starting with updating ceiling lighting.
Replacing can lights
Mudroom Laundry Room makeover by Stacie from Stackies Spaces for her busy family.
Mudroom laundry room update
Thank you for stopping by today I hope you found some inspiration and are ready to create your own unique headboard masterpiece.
See you soon,
Kippi
Ps. Don't forget to subscribe.